One of the number one complaints about gluten free bread is its texture. Regular wheat flour bread has this yummy sticky and yet fluffy type texture which is enhanced by the gluten in it. Another complaint is that the bread is hard to slice and stay together without crumbling. The bread usually crumbles because of the same lacking "stickiness" of the baked product. The flours that make up gluten free bread hold more moisture and tend to become more dense and heavy.
When living a gluten free lifestyle, most people stay on a continual search for that same texture they had in bread that contained gluten. There are endless blogs about gluten free bread: How to make it, What types are best pre-made and store bought, What flour mixtures seem to give the best results.
It's downright frustrating to the novice baker and if you purchase store bought gluten free bread it lacks in taste and texture.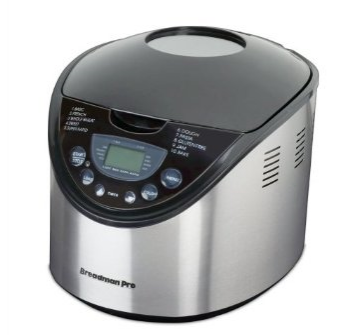 When our child was diagnosed with Celiac Disease, we purchased a
Breadman Pro
brand breadmaker because we were novice bakers too. We then bought many mixes and tried them. The best result we got for the past year was out of
Gluten Free Pantry's Favorite Sandwich Bread Mix
. The Breadman Pro has a gluten free bread setting which works wonderfully with this particular bread.
But we still had not found a flour mix to make biscuits, pie crusts, and rolls which gave that fluffy texture or had consistent results. We heard about
Jules Flour Mixes
time and again and wondered what made it any different than any other mix that we had spent hundreds of dollars on trying. The only ingredient difference we could find was this little thing called
Expandex Modified Tapioca Starch
which promises to "revolutionize gluten free baking".
Well, we bought some
Jules All Purpose Baking Flour
to see what all the hype was and if it was warranted. First we made dinner rolls with Jules own recipe online. The results were phenomenal!
Great texture, fluffy, light, yummy rolls.(next time I'll take a picture)
Then we wanted to make drop biscuits one morning. Our little angel used to love good biscuits.
The result was this:
Fluffy, light, easy to cut biscuits!
They were even yummy the next day when we cut them in half and toasted them lightly with butter.
So whatever Jules is doing - We applaud her:-)
Here's the recipe for the biscuits pictured.
Gluten Free Drop Dead Good Biscuits
2 Cups Jules All Purpose GF flour mix
1 tsp baking powder
1 tsp salt
1/2 tsp Xanthan Gum
6 Tbsp. Shortening
1 Cup buttermilk or 1 Cup Milk w/ 1 tsp cider vinegar
1 egg beaten.
Combine all dry ingredients well.
Add shortening and cut into flour mix until small clumps form.
Add milk and egg and mix well.
Dough will be tacky. Drop by spoonfuls on cookie sheet.
Should yield about 12 to 16 biscuits.
Bake at 350 for 12 to 15 minutes.
And Bon Appetit!